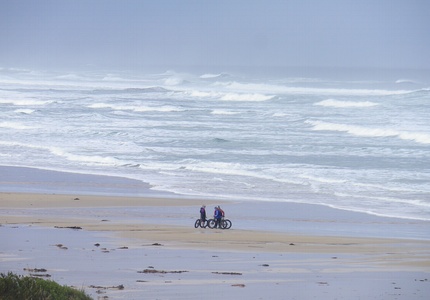 Remote West Coast
$480.00 per person
Group Size = 6-8 maximum
Leaving our meeting point in Burnie, Tasmania, we make the 2.5-hour journey to the remote west coast fishing village at Granville Harbour for The Ultimate 26km remote wilderness fat bike ride.
Leaving Granville Harbour we traverse existing 4wd tracks following the coast heading North towards our final destination – the Pieman River. The track encompasses sandy, rocky and muddy sections all within a pristine coastal setting. There are creek crossings, water holes and a 4km beach section with multiple creek crossings.
Along the beach there are sand dunes that create awesome playground for some "fun in the sand". Climb to the top and then enjoy the exhilarating decent back to the beach or over to other dunes. The dunes may look daunting, but the ride is in fact very controlled and will be very enjoyable. At the completing of the beach section we climb up and onto a headland and pick up more 4wd track that will lead us to the mouth of the majestic Pieman River and the end of our journey – on the bike that is!
Need a break, drink or snack?
We follow along the trip with an ATV complete with drinks, snacks, bikes, spare parts and a spare seat! We can also carry any personal equipment if required - (Note; there is limited space so requirements would be as minimal as possible)
After arrival and a short break
We board Pieman River cruise boat The Arcadia II. The Arcadia is a magnificent 17m craft built of Huon pine in 1939 and listed on the Australian register of Historic Vessels in 2009. She has a leisurely cruising speed of 9 knots. Originally a luxury pleasure craft based in Hobart, it was requisitioned to serve in the Second World War in New Guinea as a supply ship. The journey on the Arcadia takes us to the remote and historic township of Corinna.
Enjoy a refreshment and a bite to eat before the return trip to Burnie.
Thing's you will need
Included
Transport up to and from Burnie
Guided tour – Granville Harbour to Corinna
Fat bike or E-fat bike
Pieman River Cruise
Dropbox link with high quality photos & Videos
Protective gear (Helmet)
Water / Snacks on the ride.
Lunch
---
Excluded
Items of a personal nature
Bike Riding Shoes
Riding shorts & Top
Personal Insurance